One of the great benefits at Future Golf is the ability to submit rounds of golf that you play socially with other golfers towards your handicap.
Firstly, why is this such a good thing?
Well because most clubs don't offer this option and it keeps your handicap super accurate and up to date.
So how does it work?
Head over to the website and log in to the Member Portal via the button in the top right of the screen and entering your email and password:

Navigate to your dashboard by clicking on the "House" icon on the left of the screen:

Click "Nominate" - which must be done at least 24 hours before your round: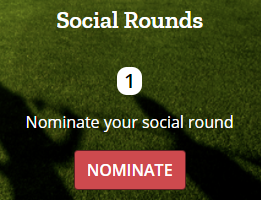 Key things to remember about social rounds:
You must play with at least one golfer who has an active handicap (can be from any club)
Calculate your daily handicap, which you can do in your GolfLink member portal with Golf Australia
On the card you must clearly state - your name, markers name, both your GolfLink numbers, both players must sign the card, date of the round
You must play the round and score using stableford
Round must be played in strict accordance with the Rules of Golf
Submit your card through the Member Portal within three days of playing the nominated round and your GolfLink will be updated within 48 - 72 hrs of the card being submitted.
Social Round Scorecard Example: